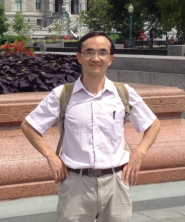 人才信息
姓名
乐士儒
性别
男
职称
副教授(硕导)
学历
博士
电话
18846182537
E-mail
leshiru@hit.edu.cn
简历介绍:
乐士儒,男,1980年生。2002年哈尔滨工业大学获学士学位,2004年哈尔滨工业大学获硕士学位,2007年哈尔滨工业大学获博士学位,2014-2015年于美国南卡罗来纳大学进行博士后进修。2007年哈尔滨工业大学基础与交叉科学研究院讲师,2009年化工与化学学院硕士生导师,2013年基础与交叉科学研究院副教授。
研究方向:
主要从事中低温固体氧化物燃料电池、固态离子、电化学反应过程研究。
代表论著:
(1) He, Shaofei ,Le, Shiru*,Guan, Lili,Liu, Tao,Sun, Kening*. Bismuth and niobium co-doped barium cobalt oxide as a promising cathode material for intermediate temperature solid oxide fuel cells,Journal of PowerSources,2015,295:33-40.
(2) Guan, Lili,Le, Shiru*,Zhu, Xiaodong,He, Shaofei,Sun, Kening*.Densification and grain growth behavior study of trivalent MO1.5 (M = Gd, Bi) dopedceriasystems,Journal of the European Ceramic Society,2015,35(10):2815-2821.
(3) Lili Guan ,Shiru Le*,Shaofei He,,Xiaodong Zhu,Tao Liu,KeningSun*.Densification Behavior and Space Charge Blocking Effect of Bi2O3 andGd2O3 Co-doped CeO2 as Electrolyte for Solid Oxide Fuel Cells,Electrochimica Acta,2015,161(1):129-136.
(4) Le, Shiru ,Sun, Kening,Zhang, Naiqing,Zhu, Xiaodong,Sun,Hanxiao,Yuan, Yixing,Zhou, Xiaoliang. Fabrication and evaluation of anode and thin Y2O3-stabilized ZrO2 film by co-tape casting and co-firingtechnique,Journal of Power Sources,2010,195(9):2644-2648.
(5) Le, Shiru,Zhang, Jing,Zhu, Xiaodong,Zhai, Jingru,Sun, Kening. Sintering and electrochemical performance of Y2O3-doped barium zirconate withBi2O3 assintering aids,Journal of Power Sources,2013,232:219-223.
(6) Shiru Le,Shengcai Zhu,Xiaodong Zhu,Kening Sun ,Densification ofSm0.2Ce0.8O1.9
with the Addition of Lithium Oxide as Sintering Aid. Journal of Power Sources,2013,222(1):367-372.
(7) Shiru Le,Yachun Mao,Xiaodong Zhu,Naiqing Zhang,Kening Sun,Constrained sitnering of Y2O3 stabilized zirconia on anode substrate,International Journal ofHydrogen Energy,2012,37:18365-18371.
(8) Zhemin Shen,Xiaodong Zhu,Shiru Le*,Wang Sun,Kening Sun*,Co-sintering anode and Y2O3 stabilized ZrO2 thin electrolytefilm for solid oxide fuel cell fabricated by co-tape casting,International Journal of HydrogenEnergy,2012,37(23):10337-10345。
(9) Le, Shiru,Shen, Zhemin,Zhu, Xiaodong,Zhou, XiaoLiang,Yan,Yan,Sun, Kening*,Zhang, Naiqing,Yuan, YiXing,Mao, Yachun,EffectiveAg-CuO sealant for planar solid oxide fuel cells,Journal of Alloys andCompounds,2010,496(1-2):96-99.
(10) Shiru Le,Kening Sun,Naiqing Zhang ,Maozhong An. Novel compressive seals for planar solid oxide fuel cells.Journal of Power Sources,2006,161:901-906.